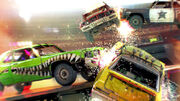 Rampage is a Demolition event in DiRT Showdown.
Description
Edit
Drivers are placed into an arena and score points based on how damaging their crashes and impacts are. Bonus points are scored for successful wrecks and wrecking streaks. Destroyed cars respawn in the arena.
Ad blocker interference detected!
Wikia is a free-to-use site that makes money from advertising. We have a modified experience for viewers using ad blockers

Wikia is not accessible if you've made further modifications. Remove the custom ad blocker rule(s) and the page will load as expected.