Head 2 Head is a knock-out tournament event in DiRT 3 and a Hoonigan event in DiRT Showdown.
Two drivers race across both lane around crossover circuit. The driver comes second will lose the race and will be eliminated, and one of the last driver who won the final is declared the winner of the event.
Crossover
Edit
There is also an event somewhat akin to the Head 2 Head in Colin McRae DiRT which is called crossover which is technically Head 2 Head but with a different name
DiRT Showdown
Edit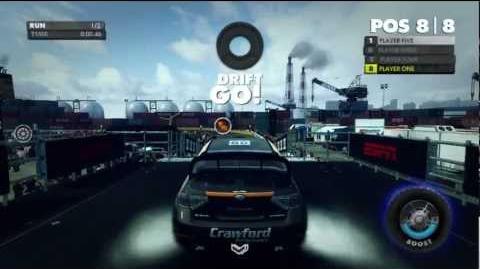 Two drivers race across two mirrored, point-to-point obstacle course as quickly as possible, successfully pulling off tricks along the way. It takes place over two rounds, and at the end of the first round, the drivers switch lanes for a second attempt. The winner is the driver with the fastest aggregate time.
Ad blocker interference detected!
Wikia is a free-to-use site that makes money from advertising. We have a modified experience for viewers using ad blockers

Wikia is not accessible if you've made further modifications. Remove the custom ad blocker rule(s) and the page will load as expected.