This article is a stub. You can help Colin McRae Rally and DiRT Wiki by expanding it.
This article is about the drivers in DiRT Showdown. For drivers in DiRT 3, see Drivers (DiRT 3). And for drivers in DiRT 2, see Drivers (DiRT 2).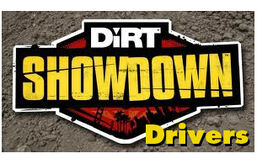 Although the player cannot directly be a famous celebrity driver, there are a number of drivers in DiRT Showdown that can be raced against.
Hoonigan Drivers
Edit
Race Drivers
Edit
Demolition Drivers
Edit
Undetermined
Edit
Jon Tucker (PC version only)
Bruce Cannon
Seve Rivera
Ruben Devos
Jonas Olsen
Giovanni Rubio
Colt Cabana
Rodrigo Lopez
Lukas Gruber
David Burton
Christian Raine
Pierre Ancel
Colt Dawson
Thomas Brown
Javier Cruz
Yamato Kato
Ethan Scott
Donald Benson
Ad blocker interference detected!
Wikia is a free-to-use site that makes money from advertising. We have a modified experience for viewers using ad blockers

Wikia is not accessible if you've made further modifications. Remove the custom ad blocker rule(s) and the page will load as expected.