The DMG Titan is a Demolition car in DiRT Showdown. Possessing the greatest combination of both Strength and Power, the DMG Titan lives up to its name as the titan of damage. To balance its raw power, its speed and handling are very limited.
Unlocking
Edit
The Titan is unlocked by completing the ESPN Legend Tour final, and is then available to purchase for $72,500.
Liveries
Edit
Hans
Hooker Headers
No Fear
OMP
Simpson
Skin Industries
Dalikfodda
Flip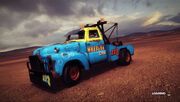 It cannot have its performance stats upgraded.
The Titan resembles a GMC tow truck.
It is the only driveable tow truck in the entire Colin McRae Rally and DiRT series.
External links
Edit
Ad blocker interference detected!
Wikia is a free-to-use site that makes money from advertising. We have a modified experience for viewers using ad blockers

Wikia is not accessible if you've made further modifications. Remove the custom ad blocker rule(s) and the page will load as expected.